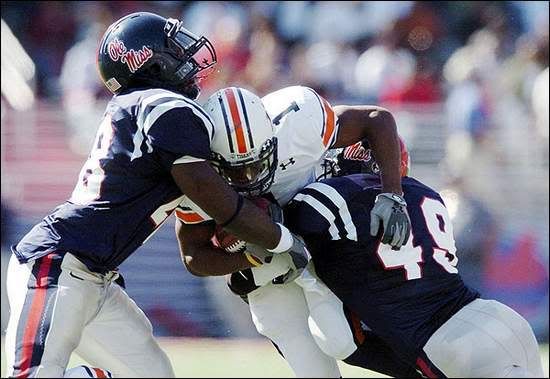 Tag Team...Back Again. R.J. (#48) and P-Willie (#49) - Best LB tandom in the nation?


Ole Miss might not have a whole lot of "Ws" this year, but they do have some serious, hardcore stallions at the linebacker position.

However, is fellow badass Linebacker Rory Johnson (Hinds Community College transfer) cannibalizing Patrick Willis' greatness?

Surely Willis has not lost a step since "the clubbed days" of 2005...

On the stat side, P-Willie is down a few tackles from last season (from 13 to 11), mostly because he doesn't have to constantly wipe the collective ass of the defensive backfield.

2006:

P-Willie in the NCAA, Division I

101 Total Tackles: 3rd

67 Solos: 2nd


Yeah, I know. What's wrong with him?! Just when you start thinking he's human again, you see a play like the one below and he totally redeems himself!

Here's Willis, heads up with the best RB in the nation:


Got Willis?


By the way...

Rory Johnson (J.C. Transfer)

65 Total Tackles in his FIRST FOUR STARTS... EVA. (Vandy, Bama, Arkansas and Auburn)

That's...Strong...to Quite Strong.