LSU Game Eve


Cause everybody knows, half the fun of the big game is the build up
The loveliest village on the plain can hardly be described as simply a village these days. This town of nearly 50,000 is the largest piece of the most populous metro area in East Alabama. While, relatively speaking, that's not saying much, it has come a long way.
Your first sign of progress is the four lane highway (280) that leaves Birmingham and takes you, without interruption, all the way to the outskirts.
Well, would you expect any less from a school that boasts
The National Center for Asphalt Technology
?
My Auburn Grad Girlfriend and I left Birmingham at 3 pm. For those uninitiated, Highway 280 traffic runs deep from 2-7 in the afternoons, and it's especially rough on fall Fridays.
Why? Because 280 runs dead through the heart of Auburn Grad Country here in Birmingham. Every Auburn fan I know lives or has lived somewhere along the 280 corridor. It's just a right of passage.
In the spirit of the Old West, it's almost like the Auburn folks get their diplomas and start the wagon ride back to Birmingham on the highway. Only to pullover at the first available subdivision here in "The Big City."
"We'll call this Valley, 'Inverness!' It has a Sak's, Logan's Roadhouse and Home Depot. It's Perfect!"
Anyway, despite my best efforts (leaving work early and driving straight to Alison's place) we still spent a good 45 minutes in gameday/rush-hour traffic here in Birmingham. Once we got over the second mountain ("New Money Hill") and down into Chelsea, it was smooth sailing, and I preceded to sleep the rest of the trip away.
As we got close, something awoke me from my gentle slumber.
Was it the spirit if Shug Jordan welcoming me...
or could it be the potholes in the rural back-road that only an experienced Alumni (like Alison) would traverse?
Either way, I was starting to get an uneasy, almost nervous, feeling in my gut. One that said, "You're askin' for it this weekend."
After a little more gameday traffic, we made it downtown to our destination. Our friend, Chris, had offered us a place to rest for the weekend at his condo in the building above Buffalo's (or as he described it "half a block from Toomer's").
While Chris' condo was in the center of it all, it would also prove to be a double edged sword. We were forced to drive around for about 15 minutes on Gameday Eve, just to find a place to leave our car for the weekend. Four blocks away! (A $50 dollar ticket would not be money well spent)
Being a good host, Chris was kind enough to pick us up at our estranged vehicle and shuttle us to his bachelor pad. This is necessary because parking was at a premium and the parking deck Nazis were in full effect on this biggest home game of the year.
Ok, Auburn is known, stereotypically, as a small, agricultural, college town. However, I felt like I was in New York or Chicago when I walked into the lobby of Chris' Condo. The only thing that gave away our location was the deep orange and blue, decorative carpeting in the hallways (much like a grand old hotel...but with an Auburn flavor). When Chris turned the private key and pressed the button for the 4th floor, I knew Alison and I were in for something special.
This was certainly not your typical college housing. Marble counter tops and all stainless fixtures. Not bad! The condo's forth floor vantage afforded us some incredible views. Laid out before us was the downtown landscape as well as the campus, with classically styled Samford Hall and a sleepy Jordan Hare rising ominously in the distance. A chill ran down my spine.
"It'd be nice waking up to this" I said to Alison.
What good Auburn fan wouldn't be jealous of this gameday hideaway!
After settling in, the three of us took the elevator down to the lobby where Buffalo's American Grill awaited us. Hot Wings, cool ranch and Beer. A fan can't ask for too much more. Soon, old friends were coming out of the woodwork. First they found Chris, then Alison, then myself.
It's amazing how folks, you would never just run into at home in Birmingham, miraculously appear when you're hanging out in Auburn. I didn't even go to Auburn!
After sharing a few drinks and memories about the good old days, we went back up to the condo to prepare for the nights festivities.
Alison's good friend and former roommate had married a few years back and returned here with her husband to live the Auburn dream: An alumni couple, living in their college town with a contending football team. Summer and Gary's stock is way up!
They were having a keg. How thoughtful!
What better time and place for a party? Everybody you know is here (or they wish they were).
Being the safety first kinda folks that Alison and I are, we called the "Tiger Taxi" to transport us...you know, just in case!
After about thirty minutes, our driver rang. I was immediately surprised to hear the lack of accent on the other end of the phone (can't understand a damn word in Birmingham). He told us to meet him down by "Moe's" on the other side of Toomer's.
I agreed, even though I wondered why he couldn't just pick us up in front of the building. This was fine, because it would give us an excuse to walk around downtown a bit. So we filled our Buffalo's Go-cups with a little extra flavor and took the elevator to the street.
East Magnolia was alive with fans of all shapes, sizes and affiliation. The LSU faithful were everywhere. They had sniffed out the local watering holes and seemed to be traveling in large, rowdy packs along the downtown streets, like hyenas looking for prey. It being early (8pm), I didn't witness an altercations.
The Auburn crowd showed much patience and understanding. Like parents with a small child...In this case, a small child that smells of corndogs and exhibits unacceptable body hair. And you should see the men.
As we crossed College street, go-cup in hand, we were accosted by a Super-Christian. You know the kind. The guy/girl that is out spreading The Word in front of the bar at 8pm (They would be much more effective if they'd come find us at 11am the following day when we're hating life... "Yes, I'm ready to change!")
What a Debbie Downer this guy was! I couldn't manage to grab his pamphlet because I had my cell in one hand (talking to the driver) and my Rum and Coke in the other. Thanks for making me feel like dirty rotten P.O.S., dude.
Hey, there's nothing wrong with evangelism, but standing out in front of the bar on a game weekend trying to help people, is much like going to Talladega on raceday and preaching on the evils of Chevrolet.
Bad place, bad time.
So, after having my moral compass recalibrated, we were finally able to find our Cabbie in the alley on the other side of the Bar formerly known as "The Blue Room" (huge landmark of note).
This wasn't your typical cabbie, but he was your average college student working his way through school. The traffic was light. Everyone must be eating dinner or already at the bar. After a good chat about life, love, and happiness, we bid our driver farewell.
The damage: $8.00, tip included.
Score one for the home team!
We step into the house and grab yet another cup, only to find your typical, family-oriented Auburn tailgate-type party. Multiple generations were present. I would say there were almost as many parents (baby boomers) as their were folk my age (and some of us are parents too). Even my roommate from back in Birmingham was present with a few of his degenerate, man-whorish friends. It was quite a reunion, especially for Alison.
We even had a token LSU fan with requisite mustache.
One of the Auburn boomers who obviously knew the LSU guy, was giving his cajun friend some crap on the "LSU fans smell like corndogs" tip.

If this group of older people were anything like my folks, I needed to be on my best behavior. you know, keep it clean.

Not wanting to offend any of these older gentlemen, I played along and jokingly leaned over to see if I could smell corndog.
As soon as I did, the 50 year old LSU fan asked me if I wanted to, in fact See... his corndog.
Wow.
Touche, Coon-Ass dude. Touche.
All was fair game after that.
The party started to wind down relatively early, around 11pm. It seems that everyone knew that this was merely a prelude to the big day, and some restraint was in order. That didn't keep us from doing a few celebratory Keg stands, however. A surprising first for myself.
For you virgins out there... it's not as bad as it looks.
After further defiling ourselves, we called the Tiger Taxi hotline and were assigned the very same driver for our return trip. How nice.
When we returned to The Villa, we were surprised to find 4 additional housemates! Big game weekends certainly bring friends out of the woodwork (us included). So, we joined the air-mattress inflation party, had a few more laughs and fell asleep to the latest Harry Potter movie. (Thanks, Alison)
As I lay on my reinforced plastic foundation, I thought about how beautiful it is to be downtown - ground zero - for one of the biggest, badest and most passionate sporting events of the year.
Like a little kids at Christmas, I would usually have trouble sleeping given the magnitude of the situation...Not this time, however...Thanks, Budweiser.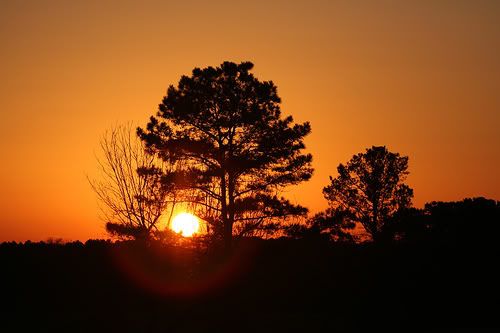 All Auburn, All Orange - by mollye mo