Urban Dictionary Says...


LSU (also known as Louisiana State University) is home to numerous loud and obnoxious coon-ass douchebags. The university was founded and is run by the dodgiest of politicians and criminals that Louisiana could gather and manage to put in suits and shoes. Somehow, the state of Louisiana justifies LSU's existence because the football program is only slightly better than the New Orleans Saints.

What is worse than the shaved apes that LSU calls men, LSU women wear fake fur, tiger-striped coats to football games and look like well-used, truck-stop whores who were dragged down I-10 by their pimps.

LSU is not really a college. It's a place where Louisiana's fanciest white trash send their sons, daughters, and incestuous mistakes to spend 5 to 7 years $#%@ing around, drinking, and learning etiquette such as how not to s#@t on the lawn and which spork is the proper dinner spork with which to eat their roadkill gumbo.

LSU holds contempt for every other institution in the SEC for the sole reason that every other institution actually manages to educate their students and because none of the other athletics teams in the SEC have to rely on the state penal system for recruits.

Boy, I'm glad I'm not at LSU - the school colors are gay and I really want to avoid working in the fast-food or erotic entertainment industries. Thank God, I'm literate, which is why I'm much better off here at Ole Miss. Hotty Toddy!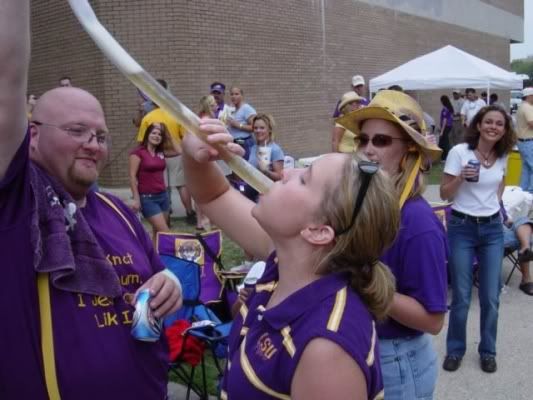 Well, I'm not sure who's responsible for this alarming and mysterious write up, but I don't think it came from the LSU media guide. Even so, it seems quite accurate taking into account my most recent experience with The Coon-Ass nation down in Auburn, Alabama. Fights, extreme inebriation, public urination, indecent exposure and gratuitous, insufferable, bisexual body/facial hair violations.
Here's What the always humorous,
Chaste Chad of WarDamnTailgate
had to say about our closest evolutionary holdovers...
How to Act Outside of Baton Rouge

An LSU fan's guide to civilization



- Unlike Louisiana, the legal blood-alcohol limit in other states is not half-n-half, so think moderation. When your sister starts to look attractive, make the switch to soft drinks, quickly. (If you are married to your sister, please disregard)

- Gumbo is not a finger food

- Just because the goat did not say "no," doesn't make it consensual

- None of our wives are for sale, so don't ask

- Not everyone likes to share a commode

- If you have to urinate in public, make sure to...

Forget it, this will never work. You people are going to come to Auburn, act like raging lunatics, get beat, and leave a smell that we won't be able to get rid of for weeks. Nothing I write can stop that, I doubt you can even read. But if by chance you can read, or if your parole officer is reading this to you, please don't use your Cajun voodoo on our kicker again, that just isn't fair.

"By the time we had left the swamps and reached those rolling hills near Baton Rouge, I was getting afraid that some rural rednecks might toss bombs at the bus. They love to attack vehicles, which are a symbol of progress..." Ignatius J. Reilly discussing LSU fans